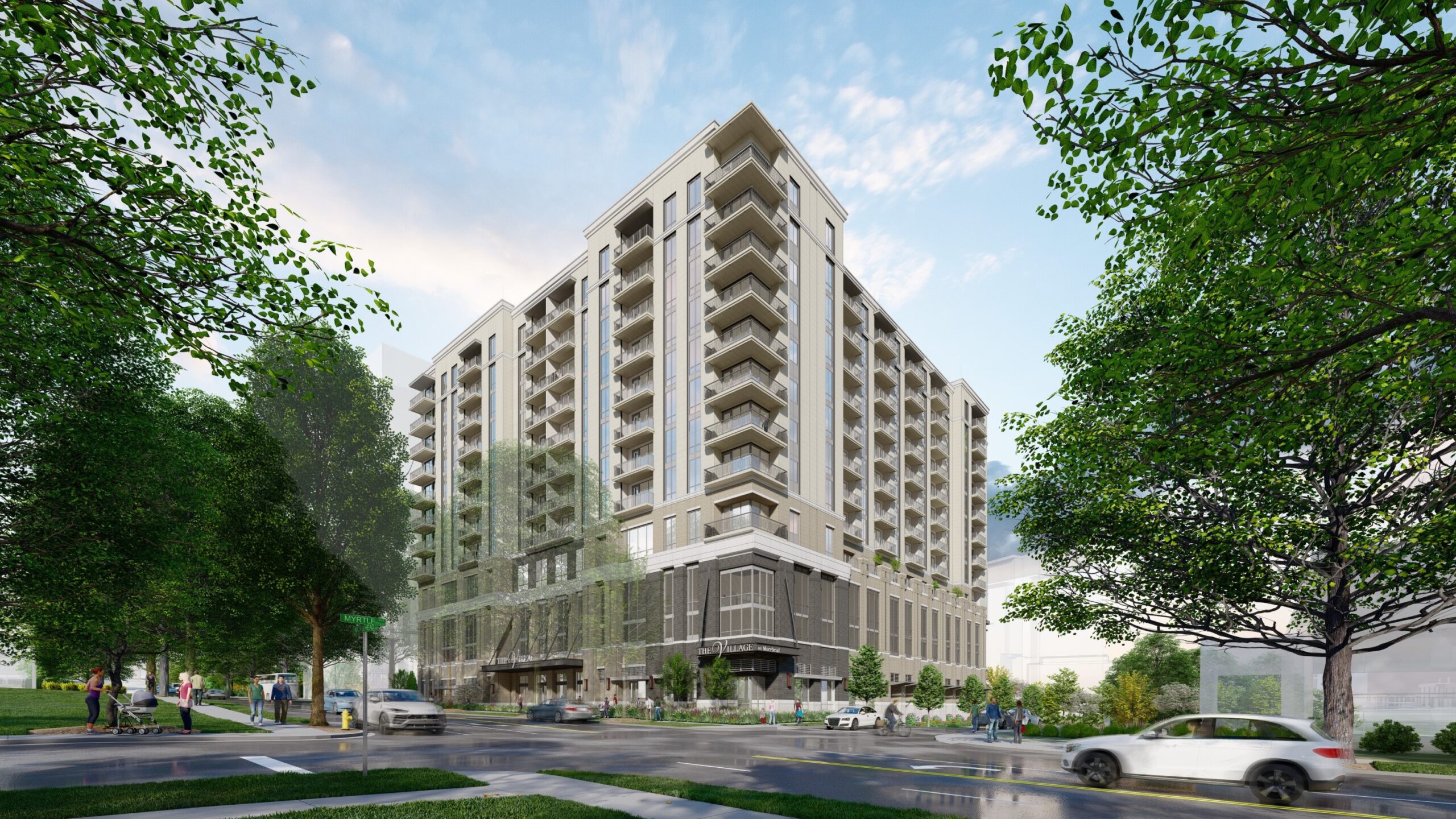 CHARLOTTE, NC & CHICAGO, IL – Bridgewood Property Company (Bridgewood), a national developer of luxury senior living properties, along with Harrison Street, a leading investment management firm exclusively focused on alternative real assets, today announced the groundbreaking at The Village on Morehead, a luxury senior living community in Charlotte, North Carolina. The project is scheduled for completion in Fall 2023.
The Village on Morehead, located at 727 E. Morehead, proximate to the Dilworth, Eastover, and Myers Park neighborhoods, will offer 199 high-end independent living apartments for seniors. In addition to providing living spaces with top-of-the-line amenities, the community has been designed to cater to a unique lifestyle with several refined as well as casual dining options, a cinema, fitness center, indoor pool, lecture hall, and stately card, living and library rooms throughout the community. The community will offer both independent living and assisted living services to residents.
Nestled in the heart of one of Charlotte's most storied neighborhoods and nearby cultural offerings, the community will feature an array of events including guest lecture series and wellness activities, as well as social outings utilizing the community's luxury transportation options available to residents. The community is conveniently located near Charlotte's top hospital systems and medical offices.
"A site on East Morehead is an ideal location for our newest community. Our team devotes a lot of time locating the right site which offers access and convenience to longtime residents of the surrounding neighborhoods of Charlotte. We love that our residents can continue doing everything they have always enjoyed about their neighborhoods- be it visiting friends, families, attending religious services, or shopping while residing at The Village on Morehead. Our community team and staff take pride in providing top notch hospitality and service, allowing all residents to LIVE LIFE WELL®", Bridgewood founder, James Gray, said of the project.
Michael Gordon, Global Chief Investment Officer at Harrison Street, added, "Bridgewood is a seasoned developer with an extensive track record developing and managing premier senior living communities and Harrison Street is pleased to continue our partnership in Charlotte. We look forward to working closely with Bridgewood to deliver premium senior living accommodations with first-class amenities attractive to residents in an energetic city supported by strong demographics."
The Village on Morehead has been designed by local architectural firm, BB+M, in conjunction with Charlotte based civil engineering firm, LandDesign. Choate Construction will be overseeing the construction as the project's general contractor. Bridgewood specializes in the development of luxury infill senior living communities and is known for its longstanding track record of successful projects across the Central and Southeastern United States. Harrison Street has been a leading investor in the alternative real asset space since its inception 15 years ago. Bridgewood and Harrison Street have developed and acquired 21 properties together over the past decade. The community will be operated by Bridgewood's longstanding operating partner, Retirement Center Management (RCM) which has been named to Fortune's Best Workplaces for Aging Services in 2021.
To learn more about The Village on Morehead or make an inquiry about joining the priority reservation list, please visit villageonmorehead.com or contact info@bridgewood.us.
About Bridgewood Property Company
Bridgewood is based in Houston, Texas and has exclusively developed and operated senior living properties across the central-southern United States for the past 25 years. Bridgewood prides itself in developing award-winning communities in carefully selected mature markets which enable its residents to remain close to their beloved neighborhoods, families, friends, and places of worship.
About Harrison Street
Harrison Street is one of the leading investment management firms exclusively focused on alternative real assets. Since inception in 2005, the firm has created a series of differentiated investment solutions focused on demographic-driven, needs-based assets. The firm has invested across senior housing, student housing, healthcare delivery, life sciences and storage real estate as well as social and utility infrastructure. Headquartered in Chicago with offices in London and Toronto, the firm has more than 195-employees and approximately $36 billion in assets under management. Clients of the firm include a global institutional investor base domiciled in North America, Europe, Middle East, Asia and Latin America. Harrison Street has been awarded Best Places to Work by Pensions & Investments for the last seven consecutive years and was named 2020 Global Alternatives Investor of the Year by PERE. For more information, please visit www.harrisonst.com.
About Retirement Center Management
Retirement Center Management (RCM) senior living communities enable residents to Live Life Well®. The company was founded in 1996, and its executive team has 30 years of experience in the senior housing industry. Today RCM manages a portfolio of outstanding senior living properties well known for exceptional quality of life and gracious living. RCM is based in Houston, Texas and is privately held.