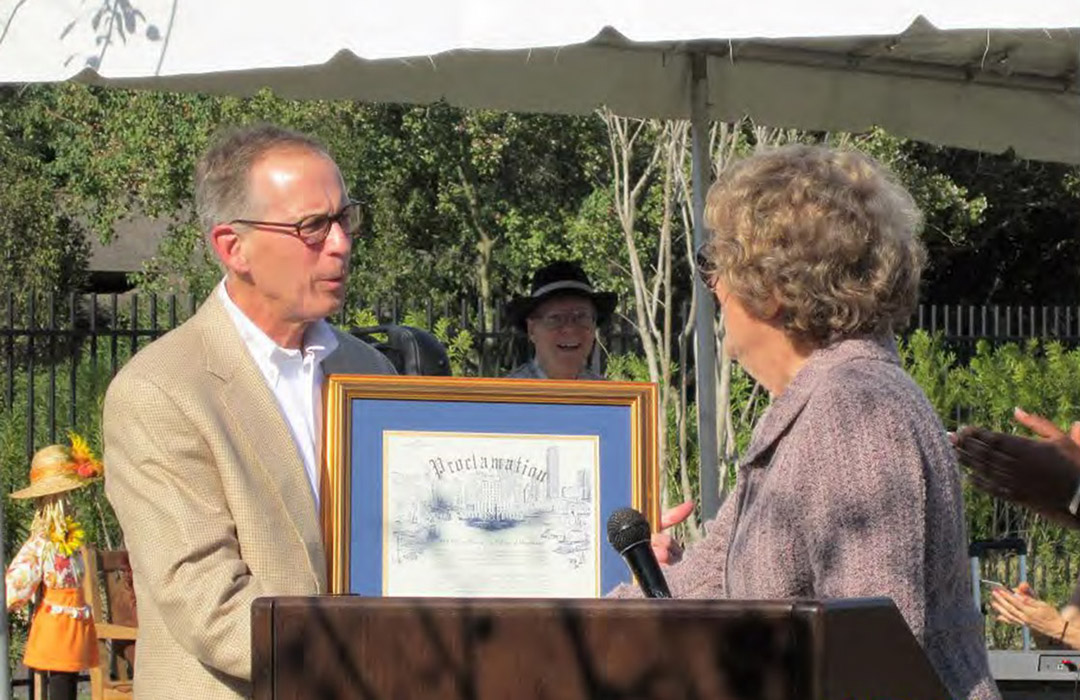 (by Carole Keeney Harrington — Intown Magazine March/April 2017)
Jim Gray's 93-year-old mother must say to all her friends and family, "What a good son I have." Every day he works, it's his mother's needs he considers – and those of fathers and anyone else who wants a comfortable life with style and ease. After 20 years building and managing exclusively for seniors through the transitions of their later lives, Gray is still inspired by what he does.
"I have a passion about it," he says of his commitment to provide high quality living space for seniors. "I consider it a calling, and I love architecture. For me, this is not just a building. It's a lifestyle. I think we are actually extending lives. It's a combination of a career and a passion."
The "villages" he has developed cater to the changing lifestyles that come with maturity and the desire to live life freer of daily chores and upkeep. His latest, a luxury collection of residences, the Village of River Oaks is at 1015 S. Shepherd Drive is in the neighborhood from which many of his residents will come, most within three miles, previous experience shows. The property, a 1.8-acre tract, formerly owned by R.R. Donnelly, the law book publisher, was acquired in 2011 for $8 million dollars.
The community offers a continuum of care so residents can stay for as long as they want, moving among the three levels as needed – independent living, assisted living and memory care. The Independent living units are already 50% leased. By April, the anticipated opening date, it is expected 70% of those spaces will be taken.
"Our program is to build in the neighborhoods where seniors and their children live," Gray said. "It's unique to have a senior's site in the densely populated urban core. When we looked at the five mile radius around the site, it was clear this market in close proximity to Houston's fine arts, theater district and one of the top medical centers in the U.S. was very much underserved in quality senior living options."
Demographics show that there is and will be a pent-up need of baby boomers for senior lifestyles. The 76 million boomer cohort began turning 65 in 2011 and will continue to do so for 18 years at the rate of 10,000 per day. By 2029, when all of the boomers will be 65 years and over, more than 20 percent of the total U.S. population will be 65 plus. Although the number of boomers will decline through mortality, this shift toward an increasingly older population is expected to endure.
Boomers have lived through some of the most affluent years of the U.S. economy. They buy larger homes and expect high quality finishes such as granite counter tops and upgraded flooring, plus all the amenities. At Village of River Oaks, these amenities and more include an indoor heated pool, a fitness center, a movie theater, outdoor terrace, arts and craft studio, library, town hall and bistro/lounge, plus additional socialization areas to encourage interaction among residents.
"I designed the building with my mother in mind," Gray said of the Village of River Oaks. "She loves lots of activities and friends. The funniest suggestion she made was, 'Make the toilets higher.'" And so they are. Walk-in showers also are available. Other safety features in the eight-story building include an entirely concrete structure that will not burn, fire doors that close automatically if needed and wiring throughout the building to receive emergency signals. A key fob will be needed to enter the building and the three-level garage has a secure gate. Valet parking adds to the convenience, and there is no tipping allowed.
Gray's history reveals his steady commitment to seniors and to the people who are on his team. Glenn House of House Partners has been his architect for 20 years. The Village at River Oaks is the latest of 25 senior living communities Gray developed in the Midwest and Southeast and now in the Southwest. As founder and president of Bridgewood Property Company, his organization currently has 10 properties and manages five others under Retirement Center Management. The Village of River Oaks is a joint venture with Harrison Street Real Estate Capital.
Gray's role at Bridgewood Property Company includes strategic, financial, and marketing operations. Gray previously served as president of Cypress Senior Living, Inc. that developed and managed senior living communities across the U.S. Brand assets were valued at more than $300 million and included more than 2000 units. He also served as managing director for Trammell Crow Company, where he was responsible for the Industrial Division of the Houston, Texas, office. Gray received his undergraduate degree in commerce and accounting from Washington Lee University and a master's of business administration from the University of Texas.
The Village at River Oaks Information Office is open in the BBVA/Compass Bank Building, 2001 Kirby Drive, Ste. 370, on the corner of San Felipe and Kirby Drive. Priority reservations mean future residents can select a premium home and lock in special pre-opening prices. Rentals start at $3,600 for a one-bedroom and up to $6200 for a two bedroom, two two-bath plus study. Assisted living costs are from $4,295 for a studio up to $7,300 for a two bedroom, one bath apartment. Memory care starts at $5,400 up to $9720 for a private space. For more information, call the office at 713-952-7600.